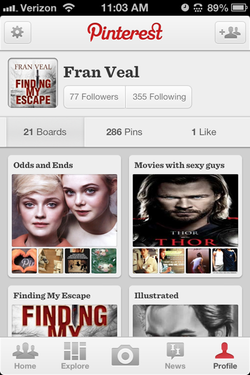 For months I'd heard my niece, Janey go on and on (and on and on) about something called Pinterest. To be honest, most of it just went in one ear and out the other as it often does when someone is talking about something we really don't have an interest in. All I knew was that it was another social media outlet where you gain followers, something like a Twitter with pictures. I already had Twitter, so what could I possibly need with another 'follower' account.
Eventually, she convinced me I needed to try it out, so I opened an account, created a couple of (extremely) random boards and pinned some of the pictures that popped up when I opened the app. Big woop.
It wasn't, however, until my author friend,
Tammie Clark Gibbs
invited me to a FaceBook Pinterest Pinning Party (say that 3x fast), that I really 'got it'. Pinterest is really like a set of file folders for anything you might be interested in, but unlike your typical files, these come with bright, beautiful images! It's like tearing articles from a magazine, only without the jagged edges. And the file system is right on your page. If you're interested in spring cleaning, you can find hundreds
of pins on the subject. If books are your thing, check out my
Pinterest Page
. The possibilities are endless. But more than that, it's FUN!
If you already have an account, let's
connect
. I love looking at other people's boards, seeing what interests them. If you aren't already on Pinterest, you should head over there to see what all the hoopla is about. I bet you'll be glad you did.