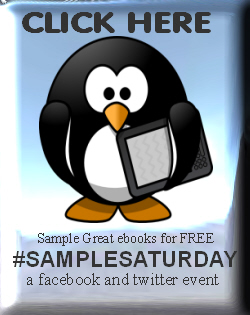 When I was a younger reader, I always had a few favorite authors. Each time I finished one of their books, I'd go back to the library or book store and eagerly peruse the shelves for another one of their titles. I'd read until I'd read them all, then I'd ask my friends what they were reading. You see, I was unwilling to take a chance on a new author unless I was
sure
I would like their writing style.
Maybe you feel a little like that. After all, even more than money sometimes, your time is an investment. You don't want to take your precious leisure time and waste it. That's why I've always found it hard to experiment when it comes to my reading.
Well, if you're like me, a little hesitant when it comes to trying out a new author or genre, then I may just have the perfect opportunity for you.
I wanted to invite everyone to come join me tomorrow for a new weekly event called
Share An Sample Saturday
. It's a wonderful chance to connect personally with authors, GET FREE EXCERPTS for books you're thinking about buying and win door prizes! That's right folks, free books! I participate as an author, but I'm always trolling through the selections for my next great read. You see, I'm finally learning to take a risk and try something new.
Come on and let's take the plunge together.