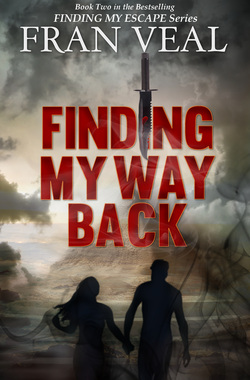 Finding My Way back goes to the editor in just a few days, but I couldn't resist giving you a peek at the sequel with this excerpt!

FINDING MY WAY BACK
Liz pulled her hand away and carefully began putting items in a strong box. She fingered one item, an old piece of parchment, before slipping it to an envelope. "I appreciate the sentiment, but you can't really know what it's like to have this responsibility."

"Maybe we should go ahead and explain everything to Hannah. This," he tapped on the box, "has to do with her, after all."

Liz shook her head. "I thought we agreed. We wouldn't burden her until she's eighteen."

"But Liz, she turns eighteen in just a couple of months."

"Six months. And if I finish this, it ends with me."

She picked up the last item, a small computer memory disc, held it for one second before dropping it into the envelope and tucked it away in the box.

Neither of them saw their daughter standing at the kitchen doorway before she slipped out the back door.

Liz knew she needed to tell Hannah soon. She'd hoped she'd be able to confirm her belief about the island first. Charles argued that they needed to tell Hannah everything before they excavated. Just in case.

"All right," she finally agreed, closing the box and turning the tumblers to lock it. "We'll talk to Hannah about it tomorrow."

As she was turning the last of the tumblers, the doorbell rang, and Charles went to answer it.

"Yes?" she heard her husband ask.

"Hello, Charles," a man's voice spoke. "Where's your wife?"

Liz felt her knees grow weak. The man's voice was malicious. Cruel.

Her intuition told her what was happening. Somehow, the Others had learned what she'd found, and they'd sent someone to get the location.

She had to hide the box. She ran out to the garage, looking around frantically, her eyes falling on a spot that might work. She shoved the box inside, and then ran back in the house to help her husband. As her foot crossed the threshold of the kitchen, she heard a shot. She grabbed the door jamb and covered her mouth to stifle the sound of her scream. She heard a thud. Charles…

Footsteps headed toward the kitchen, and she looked wildly around the room for any kind of weapon. The man walked in, brandishing a knife before she could find one.

"Hello, Liz. I believe you have something I want."

Liz sank to the floor, her body wracked with sobs.

I'm so sorry, Hannah.