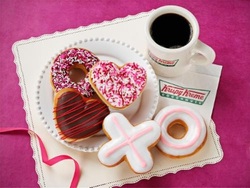 OMG, who doesn't love Krispy Kreme? Well apparently between now and February 14 you can get these yummy pastries shaped like hearts!

My Krispy Kreme Story

Everyone who's ever lived in an area where there's a Krispy Kreme store knows about the light in the window that lets people know they just finished making the donuts, and they're hot and ready to melt in your mouth. Well when I was working for NationsBank (now Bank of America) in Nashville, I was riding in a car with one of my associates when he saw the light on. Unfortunately, we'd already passed the store.

Now mind you, we were on West End Avenue, one of Nashville's most difficult to navigate streets because of the high traffic and the fact that several other streets that merge into it. So there went my crazy co-worker making a U-TURN just to get those delectable donuts, barely missing another car, but thankfully not causing a 5 car pileup.

I can just hear what his explanation would have been to the police officer if he HAD caused an accident, "But officer...the light was on."

What's YOUR Krispy Kreme story?