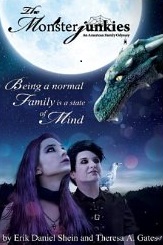 I'm really excited to be featuring this new book on my blog today
The Monster Junkies - An American Family Odessy: Being a Normal Family Is a State of Mind is a new offering from authors Erik Daniel Shein and Theresa A Gates.
The 2013 Benjamin Franklin Awards called it a "great debut fantasy novel".
5 STAR Review
from The Children's Book Review: It will keep you interested, invested in caring about these characters, through the end. Erik Daniel Shein and Theresa A Gates have created a fascinating world of otherworldly beasts, cared for by an eccentric but close and loving family. The stage is set for adventure.
Very highly recommended for pre- to early teen readers and a
valuable addition to fiction teaching kindness and understanding in a way young people won't find "preachy."
Unique and compelling, The Monsterjunkies would make excellent summer reading.
_______________
Personally, this looks like just the kind of book I would have loved to have my daughter read when she was a young teen. I've put it on my "to review list" as one I definitely want to check out.