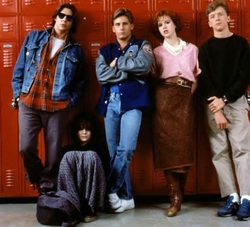 by Fran Veal
Confession, this is a bit of a reprint (okay, the 10 things are entirely a reprint) of a post I did for
IndieYABooks
, but this movie is so cool, even my sixteen-year-old loves it. And the 10 Things bear repeating.
So we go, in no particular order:
No one wants to be a cliché. Everyone wants to be seen as unique, special, irreplaceable.

Listen to the one with the most experience. In the scene where they kids have sneaked off to Bender's locker, John wants to lead them a certain way, but Andy is sick of listening to him. John's been in detention many times and knew Vernon's habits.

Making assumptions can get you into trouble. Scene where the kids are trying to get back to the library, Bender makes some assumptions about the Vernon's movements

Leadership brings out the best in people. John Bender sacrificing himself for the group so they won't all end up with another month of detention.

Don't judge a book by its cover. Most obvious, but still true. The kids all judged each other based on the labels the school placed on them.

Success doesn't have to mean a fancy job or a lot of money. If you blink, you'll miss it, but at the beginning of the movie there's a picture of Carl the Janitor with the caption "Most Likely to Succeed". I'm sure the shy brain in his class that went on to MIT and became an internet millionaire would disagree with me, but Carl seems perfectly content in his job in school sanitation. He enjoys the kids, and he gets to spend every day in a place where he has a lot of good memories. Sounds like success to me.

Popularity isn't all it's cracked up to be. Claire and Andy both expressed frustration at the pressure their friends put on them to conform. Kind of defeats the whole 'teens want to be unique concept'.

Don't dump your purse out in front of everyone if you don't want to invite people into your business. That goes for posting on FaceBook, Tweeting, and sending Instagram pictures.

Teenagers really haven't changed much in the past 29 years.

Life should have a great soundtrack.