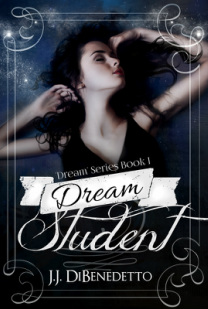 I am so excited to be promoting the new cover of Dream Student, the first novel of my good friend, J.J. DiBenedetto. I
loved
this book. Took me right back to my days as a college coed.
For a limited time, it's bargain priced at 99 cents, so snap it up while you can. But I'm warning you - these books are addictive. I bought this one and immediately purchased the rest of the books that were available at the time. I've now read all six, and I'm fortunate enough to be one of J.J.'s beta readers for number seven. Read the excerpt, and you'll see what I mean. And did I mention it was available as an audiobook as well?
Here is the purchase link.
Link to audio sample.

Excerpt:
We stop at McDonalds for a quick bite on the way home, and we just sit for a few minutes after we've eaten. Dad is staring longingly at his autograph. "This is beautiful," he says, a faraway look in his eye. I look at Brian's gift. Mike Schmidt signed it, "Brian–Go get 'em, slugger!–Mike Schmidt, #20."
He's going to love it. How could he not? I just stare at the words, picturing Brian opening up his gift, imagining his reaction, feeling him holding me, kissing me…
There's a sound, my Dad clearing his throat, and I'm back in the here and now. He looks at the picture in my hand, and then, with a very odd expression on his face he wags his finger at me. "I think I need to meet your young man."
"You're going to, Dad. On Sunday." What's going on?
He's still got that expression. He's looking at me as though he's noticing something he's never seen before. "I see so much of your mother in you. I don't think you realize how like her you are," he says, finally.
I do, actually. I look a lot like her. I've seen pictures of her when she was young, and if you didn't know it you might think you were looking at me. I start to say that, but he shakes his head.
"It's not just that you look like her," he says, reading my mind. "It's–well, I was watching you just now. I saw how your eyes lit up when you were thinking about your Brian." How long was I staring at that picture?
"Nobody else has eyes like yours. Nobody else's are that bright. Nobody else's light up the way yours did just now. Except…" and now he chokes up a bit, and he has to have some water before he can go on, "Nobody except your mother. How you looked just now, that's how she looks sometimes, when she's looking at me."
Oh.
Oh, my.
---
Read about my writing:
www.writingdreams.net
What if you could see everyone else's dreams? Find out with the Dream Series! Available at
amazon.com
or
smashwords
.