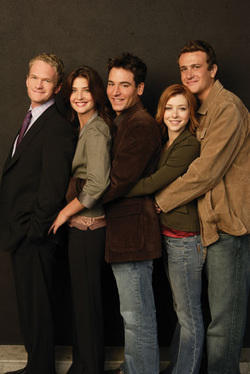 If you TIVO'd the
How I Met Your Mother
finale and haven't watched it yet, don't read any further. Or better yet, delete your recording before you even watch - the story could have ended last week with Barney and Robin's wedding. It would have been far, far more satisfying.
If you liked the ending, I get it it. It portrayed life as it really is. Marriages don't always last, and people sometimes do end up going after their best friend's exes. But the reality is, had Ted actually gone out with Robin, his friendship with Barney would have been OVER. It defies everything about the Bro code. But I'm digressing.
What I'm most upset about is the poor, poor writing of this last episode and the way CBS cheated it's viewers of nine years of buildup only to rewind the clock back to Season One when Ted first met Robin to begin with. As a writer, I'm as big a fan of plot twists as you'll find. In fact, readers of my novels have been known to throw my books against the wall because the endings leave them hanging. The major difference is that my readers understand that my books are part of a series that will have resolution in the end.
So here are the Top 10 Reasons How I Met Your Mother's Finale Is One of the Top 10 Worst Finales of All Time
You don't spend an entire season on the wedding of people you plan on dissolving 10 minutes into the last show of the season. Seriously, I can understand Barney and Robin's marriage not lasting, but to waste an entire season of the viewer's time to go "Oh, well, it didn't work out" without more explanation was just plain cruel. And stupid.

Which brings me to the let's-throw-everything-in-but-the-kitchen-sink feel of the finale. Rather than spending the season building up to the finale, we were tortured with a season long wedding that wasn't going to last anyway. (And yes, we all knew it wouldn't.)

Killing off the mom was just way too convenient and contrived. And unfair to viewers. We barely get to meet this woman and the writers show one brief hospital scene and then she's dead. Bad form, guys.

The episode left you feeling the series could have ended with Season One with Ted pining over Robin. The rest was just superfluous.

With the exception of Barney's reaction to fatherhood (which was beautiful, by the way), his character completely regressed back to his pre-Robin days with absolutely no growth. It was as if she had no effect on him whatsoever.

I alluded to this earlier, but the finale was rushed, rushed, rushed. If you blinked, you would miss something vital to the ending. Really?

The finale left you with more questions than answers. How did the mom die? Was Ted in love with Robin all along and just setting for Tracy? Why did the producers want us to watch this show?
The ending felt more like a bad April Fool's joke, and if this is the way CBS is going to treat it's viewers, it makes me wonder what other series I'm wasting my time on.
The title of the series is How I Met Your Mother, not Why I Want You Kids to Understand Why I Want to Date Your Aunt Robin. I mean really, why bother?

Finale means "end" not, "Oh no, here we go again."