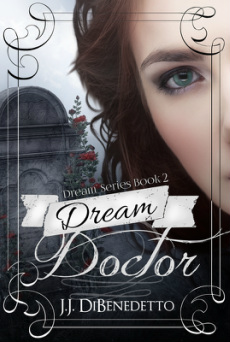 In honor of my good friend, J. J. DiBenedetto's 7th (you got that right 7th) release, I'm posting a blurb about one of my other fave's -
Dream Doctor.
I really love all of these books, and this one is no exception.
Dream Doctor
continues the story of Sara Barnes after she and Brian get married and she attends medical school. There are some awesome twists and turns, but I'll let the book speak for itself with this little taste.
Excerpt:
I open my eyes, and they're full of tears. I was – I remember it all, I remember it exactly. I was talking to Janet's mother. And then she died.
Brian is just waking up, and I clutch myself to him. His eyes open slowly, they take a while to focus on me. He sees I'm crying, he sees I'm a mess. I can see in his eyes; he already knows I had a dream.
"Margaret died. Just – just now. Just a few minutes ago."
"How do you know?" he asks, but he already knows.
"I was with her. I was – I talked to her." He knows it's possible. In a way it's how we met, after all.
"She saw you?"
I feel myself calming down a little. "Yes. I – I don't know how to feel. She – she knew. She was – God, she was so brave. She knew, and she wasn't crying or fighting or anything. And she's not – not suffering anymore." But then the real cruelty of what I saw hits me. "It's - damnit! This is the worst – it's all unfair, but this is the worst thing."
Brian has no idea what I'm talking about. "It should have been Janet!" He looks at me now as though I've completely lost my mind. "Just now! It shouldn't have been me. If she knew she was going to die, if it was the last time she ever talked to anyone, it should have been Janet. Not me." Realization dawns on his face – now he gets it.
Even though it would make me feel a thousand times better right now, I'm glad Brian doesn't lie to me and say something like "you might be wrong" or "maybe she's still alive" or any of that. I know what happened, and he knows that there's no chance I'm wrong about it. He just holds me, and very gently wipes the tears from my face.
And then he asks me the question I've been dreading. "Do you think she knows yet?" He doesn't ask the rest of it, though: if she hasn't, if they haven't called her yet, and she's downstairs waiting for me to walk together to class, what will I do?
"I don't know," and that's my answer for both questions. If she doesn't know, how can I tell her? What can I possibly say?
---
Read about J.J.'s writing:
www.writingdreams.net
What if you could see everyone else's dreams? Find out with the Dream Series! Available at
amazon.com
or
smashwords