My parents were murdered. Now the killer is after me.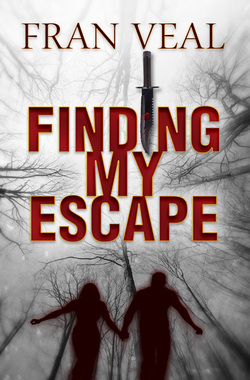 My life was shattered when I walked in on to find my parents being murdered.
He almost got me, too. The killer, I mean. The police say it was a home invasion,
but I don't believe it. I just wish the nightmares would stop. The same thing
every night, reliving it. Tripping over something...my dad's body. Hearing my mother
scream. I can't take this any more!

So I run. I run to forget. I run to get away.

And then I meet Josh. He helps me forget, for a while, anyway.

He's absolutely perfect.

Or is he...
Check out an excerpt from Finding My Escape
I tried to put it all out of my mind and just run. I was so hurt, I didn't pay much attention to which paths I was taking, and I wasn't even sure exactly which path I was on at the moment. The woods behind Aunt Laura's house were full of trails that crisscrossed in every direction. I shivered when I realized I didn't know where I was. The locals were full of stories about hikers getting lost in the Smokey Mountains.

I usually carried my cell phone, but I'd been too upset to remember it when I ran out the door. I looked around, but nothing about the canopy of trees above me or the trail markers seemed one bit familiar. I turned back down the path, but when it forked, I had no idea which trail to take. My nerves felt like they were strung as tight as a tennis racket.

I felt a hand touch my shoulder.

My self-defense course kicked in automatically.

I shoved my elbow into some ribs.

Stomped back on a foot.

Whipped around to kick.

And tripped over a stump.

"Hey, what'd you do that for?" said a muffled male voice

I looked up in terror, but what I saw had me giggling. In fact I laughed so hard, I was crying. There stood Matt, all 6 foot 2, 190 pounds of him, wiping his bloody face with one hand and holding his side with the other.

"Jeez, girl, what is with you?" Matt pulled off his shirt and held it up to his bleeding nose.

"Not that I'm not glad to see you, but what in the heck are you doing here?"

"I was worried about you, so I jumped in my car this morning and headed over. Ashville's only a couple of hundred miles from here, you know."

"No, I mean here. In the woods. On a trail I don't even recognize." I looked around, trying to get my bearings.

"Oh, that. Well, your aunt said you'd gone for a run so I used my amazing tracking skills, courtesy of the Boy Scouts, thank you very much, and found you."

"Uh huh, seriously." I rolled my eyes at Matt. Honestly, sometimes he was impossible.

"Okay, so I headed down the main trails, remembered your tendency to always go left when you come to a fork, and here I am!" Matt finished with a smug grin.

Then it registered. Matt had driven all the way from Ashville because he was worried about me. I was so touched and relieved that I burst into tears and lunged, wrapping him in a bear hug that nearly knocked us both over.

"Matt," I said, "I've never been so glad to see you, and…" Tears came to my eyes, and I couldn't finish.

"And what?" he asked impatiently. Matt wasn't always up for what he considered "girlie" emotion.

"You gave up your date with the UNC coed for me." And I smiled…