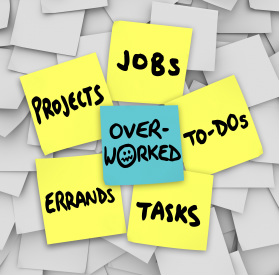 So on any given day, I have about a million-and-one things I want to do! I want to write, and read what other people have written. I want to spend time with my daughter (who's graduating next year), visit my mom (who is struggling with cancer) and have that all-so-illusive quality time with my husband. Add that to the "have-to's" of running a business, taking my mom to her cancer treatments, and (ugh) doing the laundry.
It's easy to get overwhelmed.
When I have weeks like this (and I can't remember the last time I
didn't
have a week like this), scheduling becomes oh-so-important. And by scheduling, I mean
everything -
from the simplest tasks of paying the bills (no more late fees!) to writing. But there's one more thing I schedule - down time, and I don't let anything come in and crowd that out.
You may wonder why I do that. Doesn't it make sense to squeeze out every ounce of productivity you can in a day? Actually no. Creating space in your life where you don't
have
to be doing something reduces stress and all the pitfalls that go with it (not sleeping, overeating, biting the head of your kids).
So take a deep breath, take out a piece of paper and write down all of your to-do's - both the want-to's and have-to's. Take out your calendar or use an online calendar or scheduler (I use my Goggle calendar in conjunction with
Nozbe
) then start planning your week. Schedule your margin time (the space where you don't have to do something) first.
And when you get to that point in your schedule, kick of your shoes, close your eyes, and relax.
For more about scheduling, check out Help! I Can't Finish My To-Do List on my other site, franyoakumveal.com. To get the Nozbe app (my OH-MY-GOSH-HOW-DID-I-GET-ANYTHING-DONE-WITHOUT-IT app), click here